So, you like to drink beer?
No worries, so do we. And, let us start by saying that the USA has had numerous great, both national and local brews in the last decade, as you probably know. If you're moving to Miami, you might not know that the beer scene there has been a bit slow, but it has recently flourished. Nowadays, there are numerous bars which you can visit with your friends, visiting family and new neighbors after you move to the lively beach city. Luckily, we've made a short list with descriptions, which will make all of these places easier to navigate. We've consulted both the official sites and the reviews for this short entry. Enjoy the brew of Miami!
A great place to visit after moving to Miami for your beer is: The Abbey Brewing Company
This cozy place is located on 1115 16th St, Miami beach, and it is definitely worth a visit after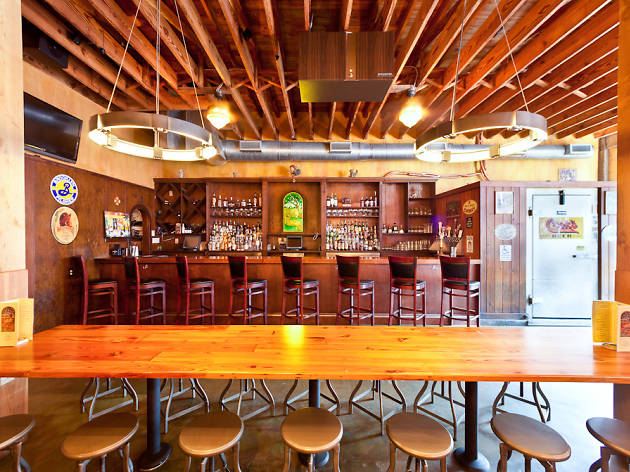 you've moved to Miami. It has an old vibe, with its wooden interior and affordable prices. There are numerous types of beer available, though, we would definitely suggest that you try the local brews on tap. If you're looking for a good place where to kick back and relax after the stress of your move, you will love The Abbey Brewing Company.
The reviews tell us that the customers are very satisfied with the service and the servers. They say that the barkeeps are knowledgeable and give great recommendations if you are looking to try a new beer. The customers are also very happy with the variety of beer available, as well as the general vibe of the place. Hopefully, all of this will make you note The Abbey Brewing Company as a great place to visit after moving to Miami.
Working hours: Mon-Sun; 1pm-5am
If you're into trying a new brew after you move, we suggest: Tap 42 Craft Beer Bar and Kitchen
Food, drinks and fun, this place has it all. Tap 42 is definitely a great place to check out after you've moved to Miami, FL, if you're looking for an afternoon kicking back with your friends or if
you're hunting for a good and tasty lunch. It is an affordable place with a great menu which will certainly have you coming back. It is located on 1411 S Andrews Ave, Fort Lauderdale, which is not that far from Miami. However, there have also been rumors of a new bar, in downtown Miami, which will be coming soon.
In case you are interested in what the customers had to say about it, the reviews will definitely encourage you to visit this bar after moving to Miami. They speak of a great variety of beer, which isn't too expensive, alcoholic drinks and the delicious food, which is fresh and well-prepared. The reviews also tell us more about the friendly staff, which makes sure that the customers are happy and satisfied with the service. Now, we've probably managed to convince you to pay a visit to this cozy place after relocating, no?
Working hours: Monday-Friday; 11:30am – Midnight
Friday; 11:30am – 2am
Saturday; 11:00am – 2am
Sunday; 11:00am – Midnight
In case you're looking for a bar which is closer to downtown, you might want to visit this one after you move: The Mighty
Located on 2224 SW 22nd St, Miami, it's probably much closer to your future home than our previous entry. If you're in the mood for great beer and good food, as well as a very friendly staff,
this place will definitely be one of your favorites after you've moved. And, let us just mention to you that the sausages in The Mighty are legendary. You will most certainly come back if you try just one.
But, let us talk about talk about the reviews of The Mighty for a while. The customers like to call it a place where 'where everybody knows your name, and they're always glad you came'. They note that, despite the place being a bit small, it has a friendly vibe. All customers are satisfied with the beer selection and the price range, and they often mention the quality of food and the delicious sausages.
Working hours: Tuesday –Thursday; 5pm-12am
Friday – Saturday; 5pm-2am
Sunday and Monday; Closed
And in the end, if you are still searching for the perfect place, visit this bar after you move: Yard House
There are a number of bars in Miami from this branch, located in the Coral Gables, Miami Beach, Hallandale Beach and Boca Raton. If you're in the mood for good beer and great food, you will love this little modern corner. Let us mention that it is owned by the same people who own Olive Garden,
and if that's not enough, there are over a hundred different types of beer on tap available, not to mention even more bottled ones. So, after you move, be sure to visit one of these places and check out either their brew or the delicious food which they offer: nachos, wings, California roll and so on.
But, let us give you a sample of the numerous reviews of the Yard House which will definitely make you visit this bar for a drink with your new neighbors after your move to Miami. The customers have all agreed that their local brews are definitely worth trying, even if you might have to spend some time and money on them. Some of the customers also remarked that they enjoyed the cocktails and other alcoholic drinks which they tried at the bar. They all praised the chicken nachos which is infamous across the city. So, if you're looking for a perfect place for a night out with your friends after moving to Miami, this is a great place to go to.
Working hours: Sunday – Thursday; 11:00AM – 12:30AM
Friday and Saturday; 11:00AM – 1:20AM