We've already covered the topic of drinking beer in Miami, so, we thought that it would be appropriate to cover this other side of the coin as well. If you are more of a wine drinker, you won't have to worry after your move to Miami. This city has more bars with amazing wines that we could go over in one post, so we encourage you to explore that small bistro which you noticed down the street of your new home. But, let us first introduce you to the big names, which you will surely want to check out after your move, not only for their wines, but for their service, prices and general atmosphere. So, let us start with our first entry:
One of the great wine bars to check out after your relocation to Miami is the Cibo Wine Bar
Now, this is a true gem, complimented by people for its amazing service and great atmosphere. There are two Cibo Wine Bars in Miami, one in Coral Gables and on South Beach. So, depending on which is closer, you should definitely go and check it out after your move to Miami. This bar has a wide arrangement of wines available, which you can see stacked all the way to the ceiling when you're inside. If you happen to be hungry at the same time, have no worries. Cibo Wine Bar offers a menu of delicious meals which you can watch as they are prepared right in front of you. This bar is mostly open from 11:30am through 2am seven days a week, however, we would definitely suggest checking their working hours before you pay them a visit after your relocation. But, be sure to make a reservation before visiting!
The next amazing wine bar which you should visit after your move to Miami is the Bin 18 Bistro Wine & Beer Loft
More commonly known as Bin 18, this is a wine bar that is definitely worth a few hours of your attention after your move to Miami. It is located on 1800 Biscayne Blvd and has quite affordable prices. Not to mention that Bin 18 prides itself in its Italian cuisine and relaxed, modern feel. If you are in the market for a place where you can both sip your preferred wine and eat a meal, with some nice music in the background and a great atmosphere all around you, this bar should definitely be a spot to visit after your relocation to Miami. Their customers all say that they were very satisfied with the polite and accommodating staff, who were happy to help them out if they had a dilemma while choosing a wine or meal for their evening. And, in case you are wondering about their hours, Bin 18 is open seven days a week, between the hours of 5pm and 11pm. Be sure to give this small place a visit after your move to Miami.
Another one of the best wine bars which you should check out after your move is Bunbury
If you're moving to downtown Miami, this will be your new favorite spot, we guarantee it. Located on 2200 NE 2nd Ave, Bunbury is a small place with a homey and welcoming feel, whether you choose to sit inside, at one of their numerous wooden tables, or outside, in the cozy garden. If you're worried about the menu here, you shouldn't be. One of the reasons why we suggest Bunbury as a wine bar to check out after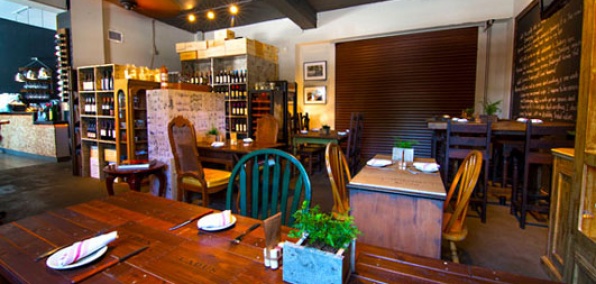 your relocation to Miami is because of their wide assortment of wines. Not to even mention the delicious food which they serve. The staff is welcoming and helpful and you are guaranteed to enjoy every single second of your visit to this bar. And, let us tell you that this little spot has been suggested by Trip Advisor, as well. Their hours are usually from 5pm until midnight, but, we do suggest that you check before visiting, just to be sure. Also, we would strongly suggest that you try and go there during their happy hour.
The last place which we will suggest for you to go drinking wine at after your move to Miami is El Carajo International Tapas & Wines
The name tells you everything, doesn't it? If you're a fan of delicious sangria and collectible or high-end wines, this is the place which you should definitely put on your list of spots to check out after your move to Miami. El Carajo is a completely unassuming place, considering that it's housed inside a gas station, and while that might make you think twice about checking it out after your relocation, we'd still advise you to forgo those notions. Located on 2465 SW 17th Ave, it is a great place to both drink and dine in. This bar provides you with an authentic, old Spanish feel, which will have you coming back for more, wine or octopus dishes. If you're wondering about the number of people who visit this cozy spot, let us inform you that it is usually very busy on weekends and during the happy hour on weekdays. So, if you are coming to only visit and relax after your move, we would suggest checking them out outside of their happy hour on weekdays. Of course, they work all days of the week, mostly from 12pm until 11pm, but, be sure to check their calendar, as there are different parts of the bar which operate at different times. We'd also like to mention here that almost all of the customers of El Carajo have noted that their service is incredibly quick, which should make it rather easy to decide to visit this bar after your move to Miami.
Well, hopefully we have listed some wine bars which you will consider visiting after your move to Miami. Surely, you will find them as well-stocked, affordable and be as satisfied with their staff's service as some of the other customers.